How to buy ballistic shields
Shields have been a vital part of combat for millennia. Just as the Roman phalanx faced their opponents in battle with a wall of shields, today's law enforcement and military agencies – from civilian officers to special operations personnel – must protect themselves from a variety of weaponry using ballistic shields. Over the years, ballistic shields have evolved from bulky and unwieldy contraptions that take valuable time to set up, to lightweight apparatus that are easy to transport and carry and can shield multiple officers from harm.
Ideal body armour should be lightweight, compact and portable, providing the best protection for law enforcement and military personnel while allowing them to go about their jobs as efficiently as possible. The type of ballistic shield which is chosen should be appropriate for the intended mission and move with the times. Guns of increasing power are becoming all-the-more present, meaning that officers should be equipped with the latest and most effective defences.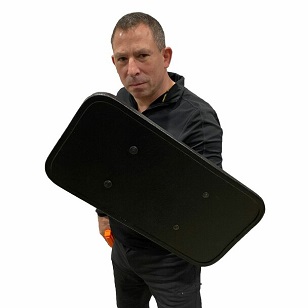 Choosing your ballistic shield
As the technology of weaponry and ballistic shields rapidly evolves, there are many different options available to protect law enforcement and military personnel from harm. There are several important points that should be taken into consideration when researching different shields:
Usage: Before purchasing a ballistic shield, it is vital to establish the situations in which the shield will be used. Is it intended for daily patrol wear, tactical use or both? Will it be used during observation and defence, or will it also be used during encounters with aggressive and armed individuals?
Protection: The ballistic shield provides the primary barrier between an officer and a projectile, and so the material it is made of is of ultimate importance. Is the shield suitable for the ballistic threat levels it will encounter – centre-fire rifles, sub-machine guns, shotguns and other types of weapon?
Portability: As with all personal armour, the more substantial the material, the more effective the protection. However, the wieldiness of a ballistic shield is a vital consideration, and so some heavier features of the ballistic shield can be conceded depending on the shield's intended mission. For example, if the shield will be used for observational or defensive purposes, then is a heavy, armoured viewing window necessary?
Other key points to consider are: can the shield be carried by one officer or does it need two pairs of hands? Must the shield be assembled prior to deployment? Must the officer have the ability to carry their shield and use a weapon?
Storage: A shield's portability does not only concern its use, but also its storage and transportation. When out on a mission, what size vehicle will be used? When back at the station, what kind of warehouse or storage facilities are available? Proper storage of ballistic shields is vital for maintaining their effectiveness. The majority of shields are covered by manufacturer's warranty and insurance for several years after purchase.
The NIJ provides a list of categories which help customers to choose the appropriate shield for their mission:
For police patrol first responders in a situation with an active shooter: NIJ Threat Level IIIA ballistic shield: lightweight, made of breakthrough composite materials and weighing just 10-13 lbs; portable, which allows officers to hold both their weapon (handgun or long gun) and shield; and foldable, can be easily stored in the patrol vehicle.
For patrol officers in a defensive or observational role in a potential shots fired scenario: Traditional Level IIIA rectangular ballistic shield with an armoured viewing window, weighing 15-30 lbs, or a non-windowed ballistic shield, weighing 8-20 lbs. This non-foldable shield can be stored in the patrol vehicle trunk or at another location.
Tactical response against ballistic threats from a handgun, shotgun and sub-machine gun: Traditional Level IIIA rectangular ballistic shield with an armoured window, weighing 15-25 lbs. It can shield two officers, allowing one officer some ability to use a handgun around the side of the ballistic shield, while the second officer armed with a long gun can step out from behind the shield.
Tactical response against centre-fire rifles: Non-windowed Level III composite ballistic shield, weighing 18-35 lbs. Level III/IV shields made from steel and/or ceramic are available in larger sizes, ranging from 150-400 lbs, and must be assembled onto a wheeled dolly with supportive framing.
Recent Posts
The Best Self Defense Devices for WomenEven so an average woman is physically less capable than an a …

Byrna Gun - A New Trendy Player in the Less Lethal Weapons LeagueProtecting yourself in dangerous si …

Plate Carrier VS. Tactical Vest. Are They Different?Plate carriers and tactical vests. You can often …